Bois Cotlette is FREEDOM
The property comes with the following.
Safety
The Bois Cotlette Estate was first settled about the year 400 by Amerindians. They chose the site for safety as it is located in a fortress of a setting in the mountains of Soufriere above what is now a protected marine reserve with some of the world's best snorkeling and diving.
Security
Bois Cotlette has always been, and is today, fully self-sufficient in all three food, power, and water. If the outside world has a major disruption, whether it be political, economic, prolonged natural disaster, or for a variety of other reasons shuts down tomorrow, 150 savvy investors will always have a safe haven and the ability to live peacefully at Bois Cotlette.
Important Property
Bois Cotlette is the oldest surviving estate in Dominica and a trophy property renown throughout the world. Our uniquely rich soils and terrain enable us to produce small batch, high quality estate grown coffee and chocolates.
Tourist Attraction
Sparing a world event that would require Bois Cotlette to become a secure setting for its owners, tourists from around the world come to visit and enjoy this spectacular site. Bois Cotlette has contracts in place with 9 major cruise lines to provide tour services at the property and we anticipate high rental demand for overnight accommodations once our villas and cottages are completed and made available for guests.
Investor Friendly Structure
Caribbean islands tend to have high real estate transfer duties and other restrictions on land ownership that can make transferring of property illiquid and expensive. Bois Cotlette, Inc. is offering preferred share investments that offer better protections than individual ownership since preferred share holders have priority claim to the entire company. This includes real estate, property, plant and equipment. Importantly, this structure avoids the imposition of heavy real estate transaction costs.
Liquidity
Part of Freedom's promise is stress free flexibility and mobility. Don't get trapped in an illiquid investment. Bois Cotlette, Inc. offers options allowing for an assured sale and exit strategy from your preferred share investment interest.
---
Bois Cotlette Estate
---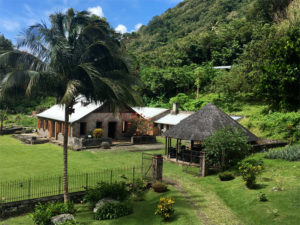 ---
+1 (767) 440-8805
BoisCotlette@gmail.com


Soufriere, Commonwealth of Dominica
---
+1 (767) 440-8805 | BoisCotlette@gmail.com
---
---

Bois Cotlette Estate's Central Attraction: The Heritage Maison and Courtyard
---