Living the Dream on "the Nature Island"
Dominica, many say, is a true garden of Eden and perhaps the most beautiful place on earth. Visually the island is stunning with bluffs over the sea, a multitude of waterfalls, a variety of beaches, the second largest boiling lake in the world, warm sulfur streams, world class snorkeling and diving reefs, and beautiful rainbows arching in the sky on almost any day. Yes, Dominica has a bounty of rare natural resources waiting for you that no other place on earth can offer.
But Dominica is not just a story about natural wonders. It is a complex blend of a simple time from the past with a vibrant present and future based on proactive eco-tourism development.
For example, the Caribbean's first long distance walking trail, the Waitukubuli National Trail covers 115 of some of the best hiking miles in the Caribbean. The trail crosses the entire island from the southern tip at Scotts Head to the Cabrits National Park in the north. Along the way you pass near the oldest surviving estate on the island, Bois Cotlette, through forest reserves, coastal areas and the UNESCO natural World Heritage Site, Morne Trois Pitons National Park.
The island also attracts hundreds of thousands of cruise ship passenger visits each year. Visit our Getting Here page and check our location for more information on how to get here.
---
Bois Cotlette Estate
---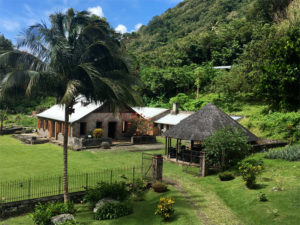 ---
+1 (767) 440-8805
BoisCotlette@gmail.com


Soufriere, Commonwealth of Dominica
---
+1 (767) 440-8805 | BoisCotlette@gmail.com
---
---

Bois Cotlette Estate's Central Attraction: The Heritage Maison and Courtyard
---