Investment Process for Bois Cotlette
Reservation of the Property Preferred Share
The client signs a reservation agreement for Preferred share and pays a non-refundable reservation deposit of $11,000 (deductible from the Purchase Price) to the company, Bois Cotlette, Inc.
Purchase Documents
Upon receipt of the signed reservation agreement and deposit, the developer returns the executed reservation agreement to the client along with duplicate originals of the purchase documents.
Contract and Deposit
The client completes the purchase documents and makes a non refundable deposit of 20% the Purchase Price (less the reservation deposit) to the company, Bois Cotlette, Inc. Arrangements are made for signing and exchange of contracts.
Closing, Payment and Delivery
The Closing Date of the purchase and sale agreement shall be a mutually agreeable day. The purchase price less the deposit is to be made contemporaneous with the Closing Date. The Company will deliver to each purchaser a certificate of his share purchase.
---
Bois Cotlette Estate
---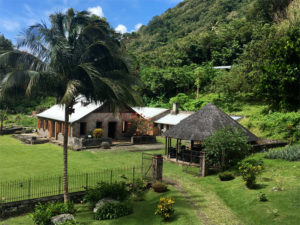 ---
+1 (767) 440-8805
BoisCotlette@gmail.com


Soufriere, Commonwealth of Dominica
---
+1 (767) 440-8805 | BoisCotlette@gmail.com
---
---

Bois Cotlette Estate's Central Attraction: The Heritage Maison and Courtyard
---